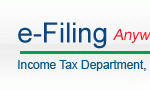 Process Of e-filing Income Tax Return ITR
What Is e-Filing?
The process of electronically filing Income Tax Returns/Forms through the Internet is known as e-filing.
E-Filing Returns and Forms mandatory for:
Individual/HUF, having total Income of Rupees 10 Lakhs and above for AY 2012-2013 and subsequent assessment years.
Individual/HUF being resident, having asset, located outside India for AY 2012-2013 and sub...
Read More