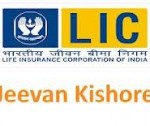 Jeevan Kishore Features
Product summary:
This is an Endowment Assurance Plan available for children of less than 12 years of age. The policy may be purchased by any of the parent/grand parent.
Commencement of risk cover:
The risk commences either after 2 years from the date of commencement of policy or from the policy anniversary immediately following the completion of 7 years of age of child, whichever is late...
Read More